Showing 13–24 of 81 results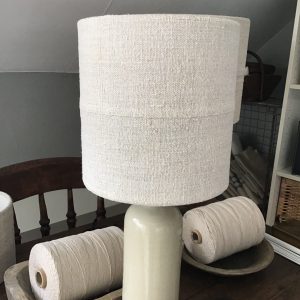 Quick View
A simple drum shape which compliments both period and contemporary interiors.
Use on a lamp base or as a ceiling pendant.
Bases available, please see
Vintage Finds- Lighting
Each shade is made from a unique vintage linen grainsack a maximum of two shades can be made from an individual sack.
This size is taller in proportion to its width and can often work better on bases which are also tall and narrow.
20cm diameter x 20cm high.
It is perfect for the stone bottle lamps as seen in images.
The Natural colourway has a central raised seam detail which gives added texture.
Available in red or blue stripe, natural linen and also white linen.
see lit in image...perfect for lighting a gloomy corner. Blue stripe shade shows comparison with regular small drum shade.
Pairs available - when ordering two shades in the same size you will be sent a pair unless you've requested otherwise.
Showing 13–24 of 81 results